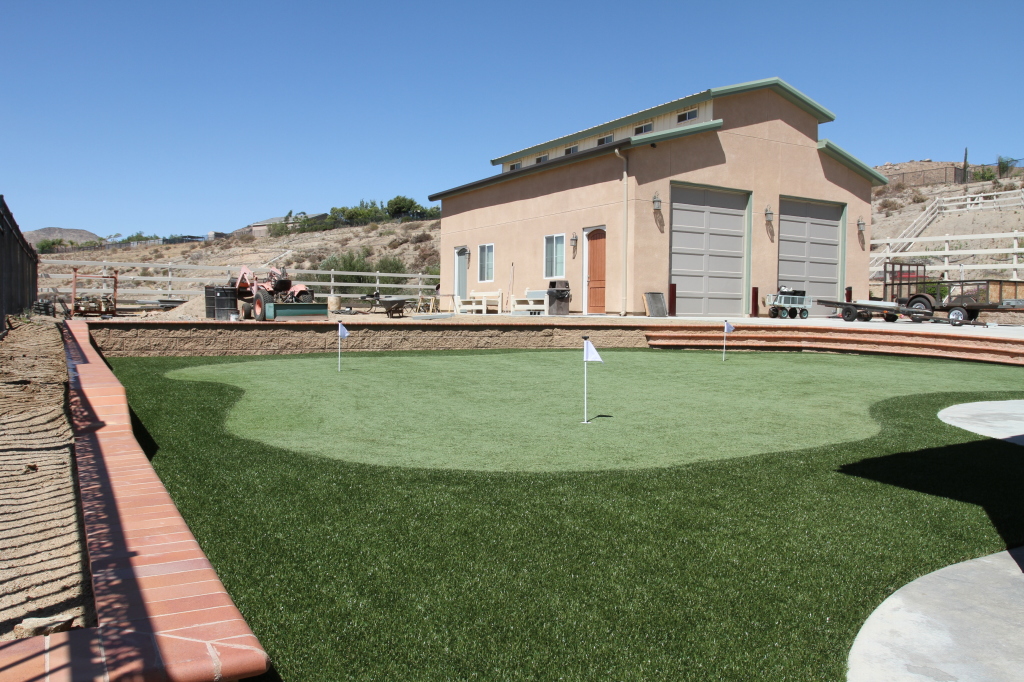 Green-R Turf Artificial Putting Greens provides the most advanced artificial grass putting greens that replicate real playing conditions found on the most popular golf courses. Our turf features organic characteristics that allow golfers to focus on every aspect of their game.
Our putting green products are safe to use for indoor or outdoor applications.
Our premier artificial putting green fibers consistently produce a surface that exhibits unmatched quality and superior durability. Our superior customer service gives you the opportunity to express your needs and add personal touch to your ideal putting green. We are here for your golf needs! For golfers that are looking to showcase their putting green, our turf products are built with only the finest yarns and backing materials. Artificial putting greens will enhance your landscape, yet require less maintenance than real grass and eliminate your exterior water bill. As our customers choose Green-R Turf to install golf turf oasis in their backyard; they are making a choice to support our precious water resource and fuel emissions that are required when installing natural grass. Green-R Turf takes pride providing products that benefit your lifestyle, but also benefit the planet.
Commercial Artificial Grass Putting Greens.
Artificial Putting Greens can be installed in Apartment complexes, Auto Dealerships, Condo Associations, Golf practice ranges, office common areas, shopping mall landscaping, to name a few.
Advantages of Artificial Putting Greens
Little to no watering!
No mowing!
No pesticides!
Looks beautiful ALL year-round
Safe for Kids and Pets
Little to ZERO Maintenance
Did we mention…Great Backyard Entertainment!!
Whether it is a home putting green for practice or commercial outdoor golf green, Green-R Turf offers several varieties of artificial putting greens to meet the most demanding residential and commercial putting greens.
Our artificial putting greens are designed to be used by professionals, amateurs and instructors everywhere.
---
Quality Artificial Grass Putting Greens you can TRUST
Call us Today 951-532-2861
Golf and Putting Green Flag Set