Green-R Turf Artificial Grass Gallery – Conserve water with our beautiful artificial grass landscapes; requires minimal water, easy to maintain, safe for everyone, and provides a lush green landscape all year long.
Our artificial grass landscape will give your home or business that year around the beautiful, trouble-free landscape that you deserve yet without the expensive water bill and maintenance. Our artificial grass line is safe or children of all ages and pets.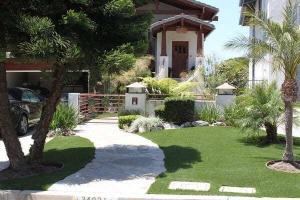 Artificial Grass Landscape Gallery:
We have been busy transforming homes and business in Southern California with our fantastic line of products! See the difference that our realistic artificial grass can change your landscape.
Make a Wish Installation: Green-R Turf was honored to install a Playground Artificial Grass for a family in Ventura that is in the Make a Wish Program.
From duck-duck-goose to kick ball, children of all ages and sizes love our Artificial Grass System! Our artificial turf products are a safe, clean and durable; as safety is our priority.  With the ever-increasing popularity and realistic look of artificial grass, playgrounds can have natural looking elements that encourage children to play and revolutionize the safety surface industry.
Pets of all ages and sizes love our artificial grass pet products! We cater to your needs as well as your furry friends. Every pet installation is unique. There is no doubt artificial turf will beautify your home, yet the essential aspect of installation is the performance.
Want to transform your backyard into a private golf oasis! Our golf turf products are designed to replicate the look and feel of a natural grass short game facility.
Our turf products can handle all types of rough and tough play! We have products for soccer, football, baseball, rugby, tennis, lacrosse, and everything in between
Call us Today 951-532-2861
Green-R Turf Artificial Grass – 11741 Sterling Ave E1, Riverside, CA 92503
Summary
Reviewer
Patty - Rancho Cucamonga, CA
Custom
Summary
Amazing service! From sales rep (Kenny Cobb) to installation crew, all were extremely professional and knowledgeable. As a woman who has had her share of contractors who have tried to
Author Rating